SEO Friendly article writing is on-trend nowadays. Companies are hiring a good SEO-friendly content writer on many platforms. Every writer wants to know about this question's answer. Because they want to write a perfect blog/article that will rank their website or earn money online. That is why I am going to answer the question that how to write an SEO-friendly article.
Specifically, every beginner writer searches this question on google or any other platform many times. Because they want to generate more traffic on their blog website and earn a lot of revenue in a short time. This is not their fault, because, on YouTube, a few fake YouTubers show on their videos that they have earned lots of money in under 30 days.
After watching this type of video repeatedly, our brain also thinks like that. I am going to explain each and every point step by step. So read this article very carefully.
How to start writing an SEO-friendly weblog?
If you are running a personal website, you can start writing. Just write on your website, do not think about keyword research, traffic, or revenue. Because this thing will help you at thinking and when you can think about the topic of an article. You can write a very good SEO-friendly article.
Now, you have to be confident that people will find my article helpful. Therefore, you need to write a complete article. For example: if you are writing a book review, first you have to read that book and then write about its summary, its main theme, and what the author wants to tell the reader everything.
Shortcut of some fake YouTubers: Use the article spinner tool for your content. Just copy others' topics and paste that on the tool. Then the tool will automatically generate a plagiarism-free new article. Thus you can write an article within 5 min. But it is not the right way. It will decrease the overall ranking of your website.
Do you want to know its effect? Well. On 25th march 2014, Google launched a new algorithm called Panda update. According to this update, Google will check the quality of the content and will index it on search results. If the article does not meet the webmaster's guidelines, Google will never index that article.
Step 2: To write SEO-friendly content, first search the topic on the search engine. Read the first 5 or 6 weblogs. Try to find something that they forget to include or some new questions related to that. Just write that in your notebook.
Step 3: Go to questionhub.google.com and search for those questions asked on the internet related to your topic. Pick some new and important questions.
Step 4: Now try to search keywords related to your topic and implement them on your blog. But remember do not do keyword stuffing. Because google will not index this type of content.
Myth about SEO optimization:
Many so-called SEO experts say that you have to write a 1500-2500 words article to rank, need backlinks, have to increase DA and PA, etc. But Google has not expected these things from us. That's why Google pushes updates to prevent articles that were ranked with the help of things like backlinks, auto-spinner articles, and auto blogging.
You can read more about Panda, hummingbirds, and Penguin updates on Wikipedia.
If you can buy some SEO tools then you can check ahref, ubbersuggest, semrush, etc. By the way, you can check our keyword research software tools blog to know which is better for you. Just use these tools to gain knowledge. Don't depend on them. Because Google also wants Helpful Content for the user and Google is going to launch a new update which is H.C.U (Helpful Content Update). This means that it will reduce the ranking of websites that were ranked using those shortcut methods.
10 tips to write an SEO Friendly article
After following these ten tips, your site will gradually start getting more traffic from now on.
Tip:1- SEO friendly Words
SEO-friendly words are the most important tool for blogging. During keyword research, you also need to check some important words which have a large search volume. Copy that word and paste it into your search engine and search for other keywords related to that one. This practice will help your site to rank on different keywords.
Also, make that keyword Bold or highlight them to make more user-friendly content.
Tip:2- Placement of Headings and Paragraphs
Generally, a beginner is not aware of this fault. They write a good and unique article. But they miss the SEO for the article. Headings and Paragraphs play important role in optimization.
Heading 1:
Always remember that your blog title is your "heading 1". You need to make your blog title attractive. Try to put your main keyword in the first place of the title. Then start your introduction part. Under the introduction part, try to put your main keyword one time.
Heading 2,3,4:
Your main blog starts from heading 2. So, put the focused keyword on heading 2 too. After that make a new paragraph and explain your thoughts with facts. Make sure that your paragraphs are short. Because a reader always hesitates to read long paragraphs. That's why keep it short and simple.
Tip:3- SEO-friendly meta description
A meta description box looks like a mirror of the article. Because here you have to describe whatever you have written in the article within 160 words. Again to attract people, try to put the focused keyword twice. Thus you can write a beautiful SEO-friendly meta description.
An SEO friendly meta description also helps to structure seo friendly websites.
Tip:4- SEO-friendly URLs
In blogger.com, it is very hard to write a URL SEO friendly. Because blogger.com automatically adds the date in the permalink.
But WordPress has a setting called permalinks where you can optimize your permalink or URL according to you. I always suggest selecting /post-name. Here are SEO-friendly url examples-
https://abc.com/best-street-food
Tip:5- SEO friendly web design
Website design is the most important factor for search engines. Google always recommends a clean and minimal design for websites. So that navigation can be easy. Nowadays, people search online mostly on their smartphones rather than desktops/laptops. That is why Google suggests mobile-friendly web design.
If you are using blogger.com then you can check seo friendly web design for your website.
Tip:6- Image SEO
What is image seo? Maybe you do not know about it. Trust me, I am also not aware of it a few years ago. But it helps to grab organic traffic to a website. Google has a separate image section. Google shows those images on its top search results that are well SEO optimized.
You can also check our What is SEO? blog for more information.
Tip:7- SEO-Friendly interlinking
Interlinking is a great tool to increase your website's page viewed duration. Also, it helps in designing SEO friendly websites. During writing an article, you can note an article link that can be linked from the article you are writing.
Select that specific word/phrase/sentence and press "ctrl+K" to link your previously published article. This is called internal linking.
Tip:8 – Plagiarism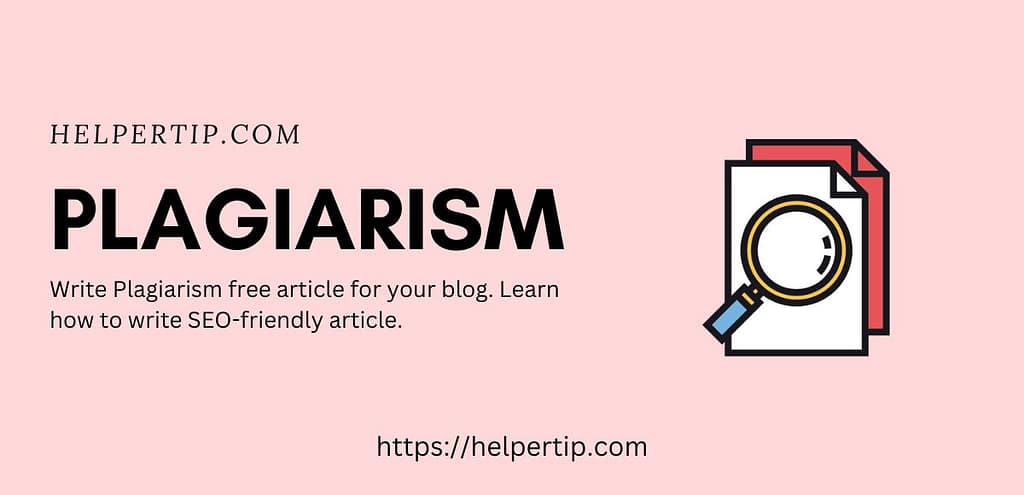 Google always advises bloggers not to copy content from other's websites. If you copy an article from a website and published that post from your website too, then Google will not index your post URL on search results.
Because Google's AI checks Plagiarism for every website. Always try to keep your article plagiarism free. You can also check your article's plagiarism at grammarly.com, plagiarismdetector.net, etc, and make your article SEO-friendly.
Tip:9 – Schema Markup
Schema markup is placed on a website's article to represent its content. If you have ever used rich snippets, you will get a better understanding. This causes higher clickthrough rates than 'regular' search results. That means your site will get more traffic.
Tip:10 – Update Old Content timely
This is a big responsibility for a blogger. We have to update our old content. So that the ranking of the article never goes down. Also, it helps with SEO-friendly website structure.