Social Media Marketing is a very good way to convert your targeted audience to potential customers. In this post, you will learn about social media marketing tips and strategies. Keep reading this blog.
How to start Social Media Marketing?
At least 90% of smartphone users use social media platforms like Facebook, Twitter, Instagram, YouTube, etc. That is why everyone uses this market to grow their businesses.
If you use Facebook or any other social media platform, you might see these kinds of ads.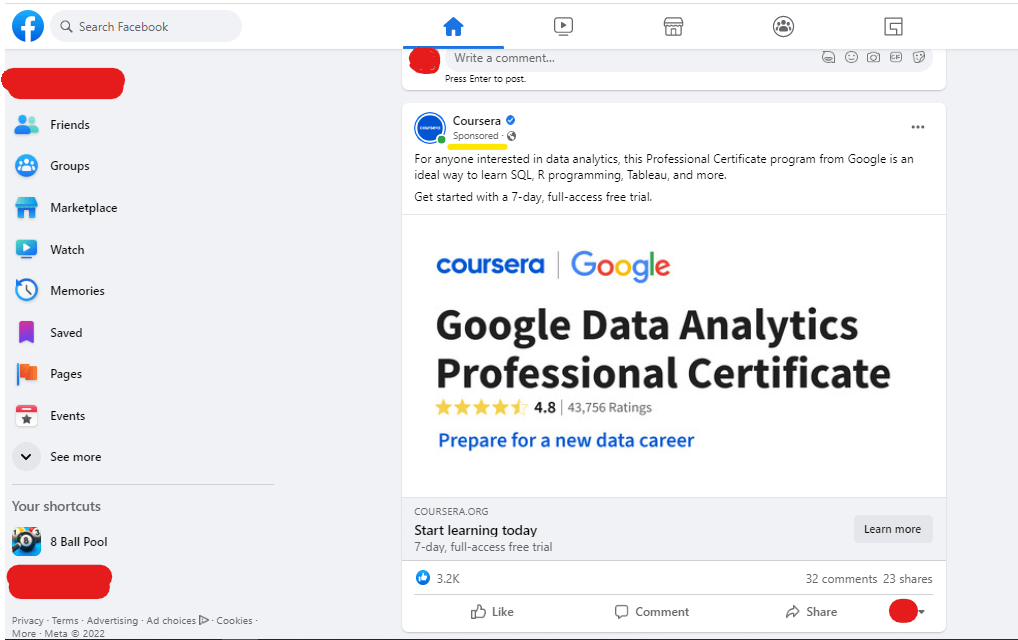 This is an example of social media marketing. In the above image, we clearly see that Coursera is trying to sell a course.
Now, how will you start social media marketing?
Well, it is easy. If you want to start SMM on Facebook then first create an account and then create a page to start.
Social Media Optimization
First, create an account and then create a page to start your marketing journey. Again, take care of a few things during the creation of a page or account.
URL– If you are creating a Facebook, try to put your name/organization name in the URL. For example – https://www.facebook.com/helpertip
Name– Do not use a long name. Try to keep your name simple and easy to remember.
About– Write a good, short description of the page.
Photos and Videos: Upload photos and videos consistently with proper SEO-friendly descriptions.
There is no word limit on Facebook. So, do not hesitate to write a long, and SEO-friendly post. Also, use hashtags on your post to get maximum reach.
How do Social Media Marketing on Instagram?
Basically, Instagram is a picture-centric app. There is no word limit but people on Instagram like to see short videos and pictures, not like to read long texts.
That's why try to share your hopes with images and videos.