An affiliate link is a specific URL that contains the affiliate's ID or username. In affiliate programs, advertisers use affiliate links to record the traffic that is sent to the advertiser's website.
This action is all part of an affiliate program. Affiliate agreements commonly state that the affiliate is responsible for arranging its own affiliate link and making sure that it connects to the advertiser's website.
Want to learn affiliate marketing?
In simple words, through an affiliate link, the affiliate programs track the traffic they get from an affiliate marketer.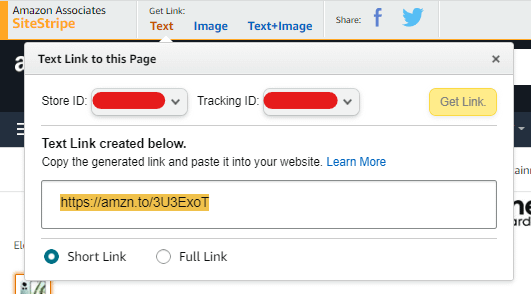 Here is an example of an Amazon affiliate program. As you can see at the top left corner of the image, there is clearly mention of it. On the amazon program, you can share three types of links
Under the "Text" option, you will get a single link, through which people will come to the product page. Also, you can share that link as a short link or as a full link. You do not have to use any third-party service to shorten your affiliate link.
In the picture, there are two options, Store ID and Tracking ID.
Store ID is your artificial store on Amazon and the store id is your store name.
What is tracking id in Affiliate Link?
It is like a code through which Amazon tracks your conversions. Simply, Amazon checks your potential customers.
Do you want to join Amazon Affiliate Program? Check the Amazon affiliate blog post now.